Fleet Science Center Materials Matters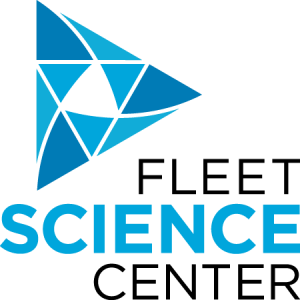 A partnership with the Fleet Science Center—a premier informal science education organization (ISE) in San Diego—is a pivotal asset in achieving the MRSEC's goal of engaging diverse audiences. As a member of the Association of Science and Technology Centers, the Fleet also serves as a springboard for impact of MRSEC outreach activities at the national level.
Events and Workshops
Suds & Science: A "Spirited" Discussion
Sometimes, the most interesting discussions occur over a beer or a glass of your favorite vino. (Bonus points if you can remember what was said the next morning!) That's the concept behind Suds & Science, a monthly event that brings scientists face-to-face with the general public in a neighborhood bar. Each session kicks off with a short and enlightening presentation, after which the floor is open for discussion between the audience and the speaker. We cover a wide variety of topics that can range from the science of beer to superhero physics to the genius of genomes. We invite you to come sit back, sip your favorite beverage and participate in the discussion. Suds & Science puts the fun and spirit(s) back into learning.
For additional information, visit https://www.fleetscience.org/events/suds-science
---
UPCOMING EVENTS:
July 12, 6:30 to 8 p.m.
Topic: Making Medicine More Equitable through Materials Science
The global pandemic has highlighted the vast disparities in access to life-saving drugs and vaccines between rich and poor communities and nations. Dr. Pokorski is trying to use lessons learned in the manufacturing of Legos to make access to medicine more equitable throughout the world. By using tools from plastics manufacturing, his research provides the opportunity to administer treatments at home that are painless, eliminate the need for multiple doses of a vaccine, and allows for pharmaceutical products to be shipped throughout the world without need for refrigeration. Learn more about how Dr. Pokorski is using common manufacturing tools to make new vaccines for HPV, cholesterol, and even COVID-19.
Location: We are back to in-person events! And we thank Thorn Brewing for hosting our first in-person event in over a year!
Thorn Brewing, 3176 Thorn Street, San Diego, CA 92104
Thorn Beers available for purchase. Bring your own dinner to enjoy!
Cost: $5-$20, The Fleet Science Center is happy to provide tiered pricing to make this event affordable, while also allowing attendees to support the Fleet if they can, making it possible for the Fleet to offer programs like these.

August 9, 6:30 to 8 p.m.
Topic: The Race for Better Batteries
Conversion of raw materials into usable energy and storage of the energy produced are common aspects of everyday life. The development of better batteries is a key technological challenge of the 21st century. Advances will allow smaller more powerful batteries and will provide a greater ability to harness more sustainable energy sources and improve our quality of life. Prof. Shirley Meng leads the Laboratory for Energy Storage and Conversion (LESC), at the University of California San Diego to design and develop new functional nano-materials and nano-structures for energy storage and conversion. Learn more how her lab's research has made batteries safer, more powerful and last longer.
Location: To be determined!
Cost: $5-$20, The Fleet Science Center is happy to provide tiered pricing to make this event affordable, while also allowing attendees to support the Fleet if they can, making it possible for the Fleet to offer programs like these. Tickets will go on sale closer to the event.
-------------------------------------------------------------------------------------------------
Past Events:
Monday, June 14, 6:30 to 8 p.m.
Topic: What are Nano Materials and why Should we Care?
Professor Andrea Tao, Nanoengineering, UC San Diego
From cloud droplets to the stained-glass windows of Notre Dame, nanoparticles are all around us. What can we do with them? Bring in the nanoarchitects… meet Prof. Andrea Tao, who leads the Nanoscale Assembly Interfaces and Assembly Laboratory at the University of California San Diego. She uses nanoparticles like LEGOS to design and build new types of materials that don't exist in nature. Her lab comes up with ways to make, manipulate, and assemble nanoparticles using the tools of chemistry. Learn more about how she and her team are using these small materials to tackle big problems, from the COVID-19 pandemic to climate change.
March 8, 7:00 p.m. to 8:30 p.m.
Topic: From Black-Eyed Peas to Cancer Nanotechnology
Professor Nicole Steinmetz, Nanoengineering, UC San Diego
We are living in a global pandemic and all of us are thinking about viruses. Pandemic or not, Dr. Steinmetz has viruses on her mind all the time… specifically plant viruses. To her, plant viruses are not pathogens or infectious agents – rather, Dr. Steinmetz sees plant viruses as 'nanoscale' tools that can be repurposed for applications targeting human health. While plant viruses can interact with cells in the human body, they cannot infect humans and the research in Dr. Steinmetz Lab sets out to engineer plant viruses to fight cancer, cardiovascular disease, and lately also COVID-19. Learn more about how her lab's research has successfully treated cancer in dogs, and what that might mean for humans.
January 11, 7:00 p.m. to 8:30 p.m.
Topic: Are Students in their Element? Advancing Diversity, Equity, and Inclusion in Chemistry Education
Professor Stacey Brydges,  Chemistry/Biochemistry, UC San Diego
Science, and chemistry in particular, is happening all around us – impacting our daily lives in ever-increasing ways. Which is why it is important for higher education in science to help students understand how science and scientists work, so that they are able to judge the risks and benefits of scientific advances, that might affect their personal, professional or civic experiences. At the same time, to achieve scientific excellence and advancements in science that benefit all members of society, we need a strong diversity of thought and experience to be able to find unique solutions to the problems we, as a society, are facing. So how can we make the (chemical) sciences accessible, inclusive and relevant for all students? What evidence-based teaching strategies can we use to foster learner engagement, wonder, reflection, and ultimately, retention in the sciences? Stacey Brydges, a Teaching Professor and Vice-Chair of Equity Diversity, Inclusion and Climate in Chemistry and Biochemistry at UC San Diego, will discuss these and other questions related to recent research advances in chemistry teaching and learning in higher education.
---
Materials Science Communication Workshops provide training in effective science communication to MRSEC members at all levels—faculty, post-doctoral scholars, and students. Workshop attendees put these skills into practice through participation in the Fleet's education programs that pair public audiences with content experts.
Materials Science Communication builds on an existing neighborhood-based STEM initiative, where Fleet staff members design tailored programs with a focus on materials science and engineering, delivered in collaboration with MRSEC personnel.
For additional information, visit Fleet Science Center or contact Janka Bond.