The MRSEC's overarching educational goals are to: (1) Develop the next-generation of diverse, interdisciplinary materials scientists and engineers; and (2) Build widespread awareness of—and excitement about—advanced materials. Our specific objectives are to: (a) Prepare young scientists, particularly those who have not had access to research experience, to be successful in research, through intensive training focused on skills acquisition; (b) Build leadership skills of early- and mid-career faculty through robust, purposeful mentorship; and (c) Engage with members of our diverse regional community to broaden understanding of how fundamental materials research enables a better quality of life for all of us. 
Graduate Students
To promote growth as interdisciplinary scholars, all MRSEC-supported graduate students have one or two co-advisors, in addition to their primary adviser. The co-advisor may be another MRSEC PI, a MRSEC Affiliate Investigator, or one of the MRSEC's external research collaborators. MRSEC students are supported for up to three years, based on progress in their research and their education and outreach activities. In addition to their stipend, tuition, and fees, graduate students can receive funding in the summer prior to their entrance into the Ph.D. program, to allow their participation in the MRSEC RIMSE summer training program.  MRSEC graduate students also receive: access and training on research instrumentation (SEM, TEM, Raman, FTIR, HPLC, DLS, Contact angle, etc.) available in the MRSEC and in our allied facilities, travel funds for meetings and research exchanges, and the opportunity to participate in industrial internships of relevance to their project. Additional professional development, grant writing, time management, leadership, and research ethics workshops are available to MRSEC students and postdoctoral researchers.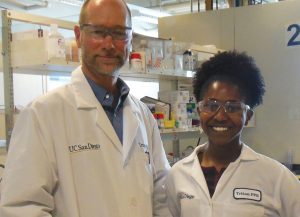 The RIMSE are immersive, hands-on six-week programs meant to prepare trainees to work in MRSEC-affiliated research labs. RIMSE engage a wide range of participants–from high school students to post-doctoral researchers and industry partners. Depending on level of preparation, REU students and students chosen for externships can also participate in a RIMSE prior to commencing their research activities.
Generally taking place during the summer, RIMSE Summer Schools are run by MRSEC faculty who serve as senior mentors/instructors. Each school emphasizes different research aspects related to the MRSEC, including soft materials and biomaterials, self-assembled materials, and computational design, and they share a set of core training elements focused on: research-critical instrumentation (electron microscopy, Raman and FTIR spectroscopy, x-ray and electron diffraction methods); integration of computational methods; critical laboratory safety and the safe handling of chemical, biological, and nanotechnological hazards; and research ethics. The immersive curriculum includes three two-hour background lectures each week, and each participant completes a capstone "Discovery Project"—a self-driven research project conducted with appropriate supervision in one of the MRSEC labs.
MRSEC sponsors undergraduate students from across the US to participate in an 8-week research-intensive experience focused on providing preparation for graduate-level materials research. REU participants who have had little prior research experience will attend one of the RIMSE Summer Schools as part of their 10-week program, and then be matched to an IRG research lab based on their interests.
MRSEC sponsors local K-12 and junior/community college educators with 8-week research-intensive experience at a MRSEC research lab. RET participants will be attached to one of the RIMSE Summer School program, and then be matched to an IRG research lab based on their interest and academic/professional development. RET participant will work on projects and modules that they can translate to their classroom back home, especially those pertaining to materials science content, demonstrations, and course materials that dovetail with the current California Science Education Standards.
MRSEC Researcher-In-Residence Program
To further foster a learning mindset amongst all MRSEC members, the MRSEC hosts leading scientists and engineers from industry, national, and government labs for periods of one week to three months each year, to engage in mutually beneficial research exchanges.  For more information, contact one of the MRSEC faculty participants.
MRSEC External Internship ("Externship") Program
UCSD MRSEC and MRSEC REU students are eligible to be placed into partner industry, government, and international labs for periods of up to three months. For more information, contact one of the MRSEC faculty participants.
A partnership with the Fleet Science Center—a premier informal science education organization (ISE) in San Diego—is a pivotal asset in achieving the MRSEC's goal of engaging diverse audiences. As a member of the Association of Science and Technology Centers, the Fleet also serves as a springboard for impact of MRSEC outreach activities at the national level. Two main elements of the MRSEC-Fleet partnership are: (1) Materials Science Communication Workshops, and (2) Community Aspirations. The Materials Science Communication Workshops  provide training in effective science communication to MRSEC members at all levels—faculty, post-doctoral scholars, and students. Workshop attendees put these skills into practice through participation in the Fleet's education programs that pair public audiences with content experts. Community Aspirations builds on an existing neighborhood-based STEM initiative, where Fleet staff members design tailored programs with a focus on materials science and engineering, delivered in collaboration with MRSEC personnel.