Converts your cell phone into a microscope!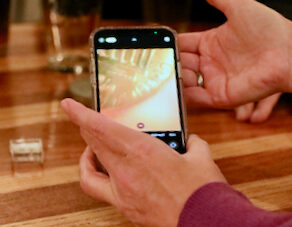 This module was developed by Seth Mclaughlin, Sachel Jetly, Claire Chen, Hannah Chen, Nathan Han, Keying Deng, and Eileen Huffer-Ege, who were trainees in the 2021 and 2022 Summer School for Silicon Nanotechnology (SSSiN), one of the Research Immersion in Materials Science and Engineering (RIMSE) programs of the UC San Diego MRSEC.
Based on the publication "Moldless Printing of Silicone Lenses with Embedded Nanostructured Optical Filters" (Mariani, S.; Robbiano, V.; Iglio, R.; La Mattina, A. A.; Nadimi, P.; Wang, J.; Kim, B.; Kumeria, T.; Sailor, M. J.; Barillaro, G., Adv. Func. Mater. 2020, 30, 1906836), this project was the trainees' capstone "Discovery Project"-an independent research project implemented under the mentorship of a senior mentor in the program. They are maintained by the educational outreach component of the Center.
What is it?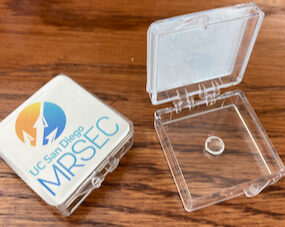 A miniature lens made out of silicone rubber that you can use to convert your cell phone into a microscope. The kit contains a clear silicone rubber hemisphere that is about the size of a pea, which can be affixed to the front of most cell phone cameras, converting the camera into a close-up microscope. The flat side of the silicone hemisphere was imprinted from a mesoporous silicon template containing tiny pores about 50 nanometers in diameter (about 1000 times smaller than the diameter of a human hair). The nanotexture on the lens allows it to be temporarily stuck to the window of a cell phone camera without leaving a residue. The transparent hemisphere acts like a lens, converting the cell phone camera into a low-cost microscope.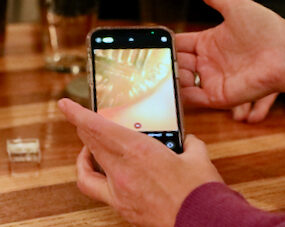 YouTube video made by MRSEC RIMSE trainee (2021-2022) and mentor (2023) Nathan Han describing how to use the lens with your cell phone camera.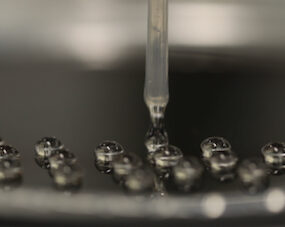 Synthesis of silicone microlens using a nanostructured porous silicon template. Harnessing the concept of the contact angle. The lenses are made by placing a drop of liquid silicone rubber precursor onto a nanostructured porous silicon wafer. The nanostructure keeps the liquid from spreading out, forcing it to bead up into a hemispherical shape needed for the lens to perform its optical magnification role. The silicone rubber is then cured, resulting in a flexible and durable lens. For more detail, see the YouTube video giving the protocol for the preparation of the lenses. It also describes the nanotechnological principles behind their preparation.
Images taken using lens on cell phone camera (top is a regular picture of each item; bottom is the close-up view taken through the cell phone microscope)